Dental Crowns That Protect Your Smile
Restorative & Aesthetic Dentistry offers dental crowns to restore your smile and act like your natural, permanent teeth.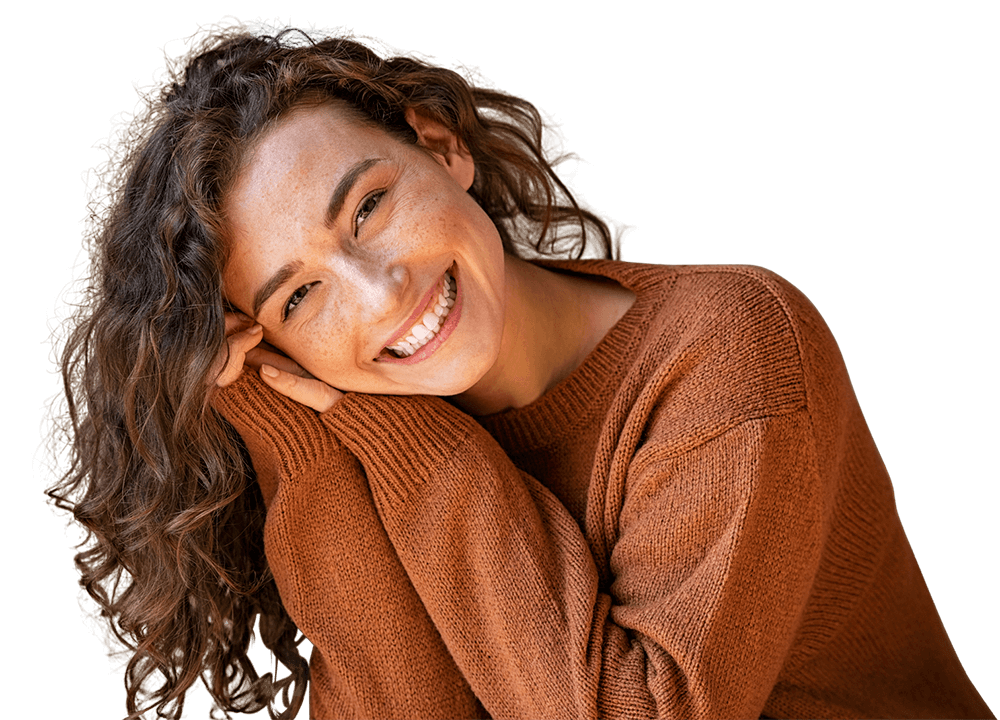 Why Crowns?
A dental crown (or cap) is a protective restoration covering the entire tooth surface and restoring it to its original size and shape. When a tooth cannot be restored with a filling, a crown is used to:
protect and strengthen the tooth structure
as a solution to decayed teeth, large fillings, and fillings that have fractured.
What to Expect
Before

Treatment

Before your crown treatment, be sure to use preventative oral hygiene to ensure your teeth are as clean as possible. Be able to identify any problems you are having with your teeth and let our dental team know.
During

Treatment

Your dentist prepares the existing tooth by removing the decay or damage and then reshaping it and reducing the size. Once the tooth is prepared, an impression of the tooth is created. We have a CEREC 3D CAD system, so we can create a crown and permanently place it over your tooth in just one visit.

But, the impression can also be done with a plastic-type material that is put into a tray or it. If it is done with the impression material, a plaster cast is made from the impression and sent to the lab, the lab uses the cast to create a crown/cap that fits over the existing tooth. This can take two or more visits to the dentist and several weeks to complete.
After

Treatment

Your dental crown appointment will be beneficial to your overall oral health. If the impression is made digitally, the crown/cap can be designed and milled in the dentist's office while the patient waits. This high-tech approach uses first-rate composite blocks to fabricate the crown.

After crown treatment, here are a few things to keep in mind:
You may experience some discomfort. Be sure to get plenty of rest.
Maintain good oral hygiene in-between visits.
Schedule a follow-up visit with our Mansfield dental office if you begin to experience any problems.
Your First Visit
A 3D digital scan will be taken at your first appointment and will be used to create your custom dental crown. During this first appointment, your dentist will also create a temporary crown for your tooth. You will wear the temporary crown for two to three weeks until a dental laboratory completes your new crown. Our dental team will numb your tooth and prepare the tooth by removing any decay and shaping the surface to properly fit the crown. Your temporary crown will then be put in place with temporary cement, and your bite will be checked to ensure you are biting properly.

Modern Dentistry
You can find all the latest technology at our Portland, ME offices.

Judgment-Free Office
We're here to help you feel confident in your smile. We provide a safe, judge-free zone for any dental issue or concern you have.

On Your Schedule
Taking care of your oral health should fit within your schedule. We are open late and on weekends so you can get the care you need.
Are you worried about the cost of a visit to install a dental crown? Don't panic. We work with over 200 dental insurance plans and flexible payment plans for your convenience.


No Insurance?
No Problem.
Making An Appointment Is Easy
Don't have insurance? That's not a problem with us. We offer payment plans and accept most major credit cards, personal checks, and more.
This dental office has taken care of me and my family for many years. We can't say enough good things about them. They are very professional, clean, friendly, gentle and caring. They are affordable and very knowledgeable!
Love this practice and the doctors. the staff are all very nice and supportive. I now have a great smile and look forward to going to the dentist
I have been going to Dr. Corwin's practice for 8 years and recommend them highly. They are extremely professional. I've always been nervous about dentist's visits, but they have made me very comfortable and have listened to my concerns and addressed them.
Excellent service and very friendly people at Restorative and Aesthetic Dental Associates in Portland. Dr. Scott Burke and his assistant Tammy were very thorough in their initial examination. He paused frequently to let me know what was happening. If you are looking for a dentist, I strongly recommend this office.
Excellent group of professionals that are a pleasure to visit. Always willing to work with you to provide solutions to your dental needs. I've been a patient for over 30 years and highly recommended them.
Dr Scott Burke is a precisionist who practices with empathy and care. He and Tammie make the dental visit tolerable and even fun. They take extra efforts for PERFECT results.
The staff is always friendly and welcoming. They talk to you like a person and not just another "patient". They explain everything and take their time to answer questions for as long as it takes. The best dental office I've ever been a patient of.
The dentists in this group are honest, dedicated, and professional in every sense of the word, and I am proud and confident to recommend them to all residents and visitors of the state of maine.
My childhood experience with my home town dentist left me fearing going to the dentist... until being introduced to this practice. What an amazing and painless approach to dentistry. Friendly, welcoming and capable. Thank you
I was hard wired from childhood with a fear of going to the dentist, that is, until I started going to Dr. Burke and his amazing staff at Restorative & Aesthetic Dental Associates. Caring and compassionate, comforting and gentle, these professionals dispel my anxiety with their natural kindness and expertise.
Scott Burke is the best dentist in the world! He's been my dentist for thirty years; Dr Burke takes a personal interest in his patients and is totally committed to his profession. The hygienists are all consummate professionals and the office is exceptionally clean and well administered.
FAQ
Frequently Asked Questions